Call me a skeptic, but I'm guessing that most people out there are really cautious when it comes to dropping some cash to watch many of the Christian films that have been put out in recent years. Shot on low budgets with limited crew and low-to-no name talent, these will obviously impact the viewers' experience.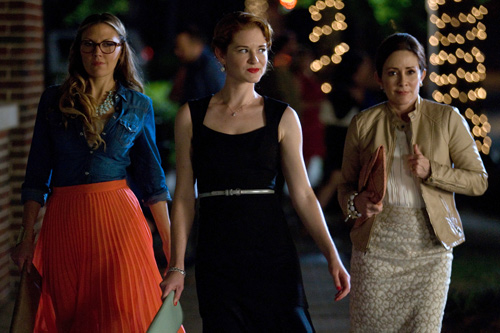 Moms' Night Out is a mix of a couple of the faces that have been seen in prior projects by Sherwood Pictures (Alex Kendrick & Robert Amaya), but executive producers Patricia Heaton & David Hunt apparently saw the need to bring in some bigger guns to achieve the level of expression necessary for a comedic experience from start to finish. Heaton (as Sondra) and Hunt (as a cabbie) cast themselves in some very delightful roles. Beyond these, we find lead actress Sarah Dew as Allyson (Grey's Anatomy and various television series), a newbie blogger tackling the stresses of motherhood & desperately needing a time out, Sean Astin by the same first name (and a visibly taller than his character in the Lord of the Rings Trilogy) as Dew's loving husband, and Trace Adkins supports with his baritone voice as a tattoo parlor owner named Bones. Also in the mix is Logan White; she's not as well known, but she played her part solidly, and I give kudos to the creative & wardrobe departments for giving her visual contrast as a character to aid in keeping the funniness and the story's progression.
The film begins just a bit slow to me, and it relies on a text on the screen effect to introduce Allyson. This does not last long, and I am sure it is a creative element others will enjoy. Very quickly, though, the present world is established, and mayhem is set loose to wreak havoc in the associated families' lives. Directors Andrew & Jon Erwin (October Baby) captured everything solidly, and the result is continuous action intermixed with some of those cliche things moms would say, and a delightfully whimsical story unfolds. From just a few minutes into the story until the end I found myself laughing and following along with great interest.
While the target audience is clearly ladies, men and children will also find the flick quite entertaining. Certainly, there is an ode to moms everywhere – and well there should be! Without them we wouldn't be here. I give the film two solid thumbs up!
Now, stop reading film and critic blog posts and go watch it!
Follow Moms' Night Out online at: